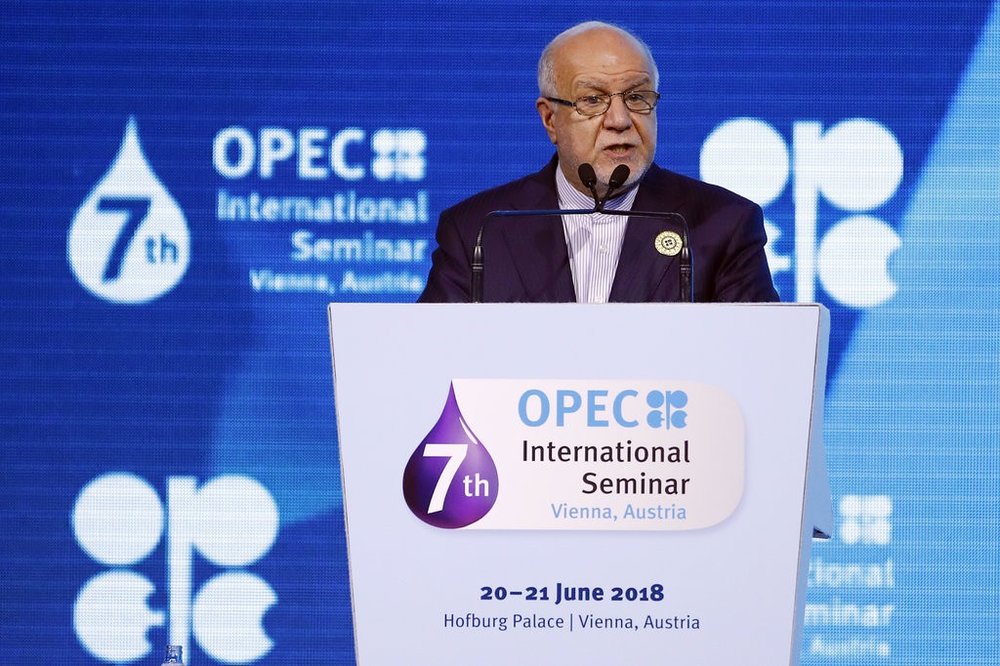 OPEC agreed on Friday to raise oil production by around 1 million barrels per day (bpd) from July for the group and its allies, an OPEC source said.
The output gain is nominal. The real increase will be smaller because several countries that recently underproduced oil will struggle to return to full quotas while other producers will not be allowed to fill the gap, OPEC sources have said, Reuters reported.
Saudi Arabia's energy minister, Khalid al Falih, said the agreement would allow countries with spare production capacity to boost output.
Analysts say supply increases are more likely to fall in a range between 600,000 to 800,000 bpd.
And Iranian Oil Minister Bijan Namdar Zanganeh said the deal added up to "less than 700,000 barrels per day" in practice, the Guardian reported.
OPEC is not expected to actually release a hard target, but the figures align with comments from ministers that the group will strive to stop overshooting its 18-month-old deal to keep 1.8 million bpd off the market. Output among the 24 nations has actually fallen by about 2.8 million bpd, due largely to cratering production in Venezuela and supply disruptions elsewhere.
The accord is a much-needed show of unity from the Organization of Petroleum Exporting Countries and allies including Russia., Bloomberg reported.
UAE's energy minister Suhail Al Mazrouei, who is also OPEC president, said OPEC had made "the best choice", balancing the interests of its members and other producers.
OPEC will meet again on Saturday with non-members, including Russia, to ratify Friday's agreement.
Outcome of OPEC meeting was what I said upon my arrival to Vienna: Zanganeh
Oil Minister Zanganeh said the group reached a consensus to stick to the body's output reduction agreement it struck back in 2016 to cap production by 1.2 million bpd after the 174th OPEC meeting, Shana news agency reported.
"As I said on the minute of my arrival in Vienna, we needed to fully comply with the output reduction agreement of the organization and nothing more," Zanganeh stated.
"We agreed on this issue and nothing more. I think that the OPEC decision is acceptable and reasonable. It is also legal, because we have a valid resolution by the end of September," the minister told reporters.
He refused to give any number for the amount of increased production.
"I think only a few OPEC members are able to enhance their output. Some countries may be unable to fully deliver the agreed levels but we have agreed on full compliance of the pact. As I had predicted, some member countries did not want to say anything against U.S. interests or discuss de-politicization of the market. I already knew this."
(Source: Agencies)